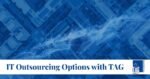 Industry/Province/State/Category
Business Description
TAG's Toronto Managed IT Services & computer support for businesses gives you the freedom to focus on your core business. We have the technical and business expertise to keep your systems running smoothly, your data protected, increase your protection against cyber-threats, and implement a disaster recovery plan, all while your team remains effective, efficient and profitable. TAG is an IT support company who is big enough to handle all of your technology needs, and small enough to give you the individual attention you deserve.
TAG is extremely proud of its corporate culture that puts its clients and its valuable team first. At the heart of TAG's success are its hardworking, passionate IT professionals and behind the scenes support who love what they do, and it shows through our professional work ethics.
recent years Technical Action Group has expanded their focus to helping businesses leverage their technology to improve efficiency and increase their profit margin. With the introduction of CIO services, Technical Action Group has added strategic principles into their approach. Through technology roadmaps, strategic planning, and regularly scheduled IT reviews with clients' senior management teams, Technical Action Group show business owners and management how to use their technology to get a leg up on competitors, continue to grow their business, and truly thrive in their industry.
Business Address
56 The Esplanade Suite 212
M5E 1A7